Brooke Eby Receives AANEM's 2023 Public Recognition Award
Published August 18, 2023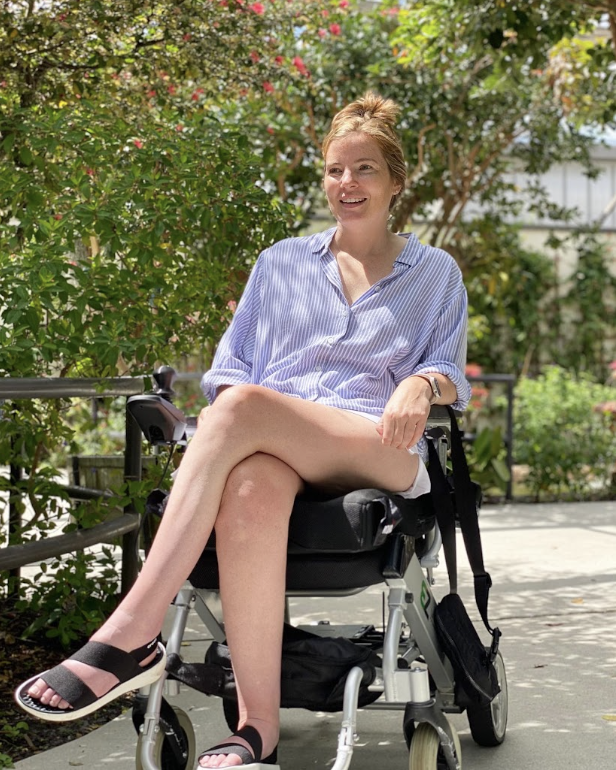 Brooke Eby has been awarded the 2023 Public Recognition Award for her remarkable commitment to raising awareness about muscle and nerve disorders. This award is given to public figures, celebrities, or entities that have made extraordinary contributions toward increasing public awareness.

In March 2022, at the age of 33, Brooke Eby received a life-altering diagnosis: ALS. Now 34 years old, Brooke reflects on her journey and how she has transformed her diagnosis into a powerful platform for awareness and advocacy.

The news of her ALS diagnosis left Brooke in a state of shock. Despite having suspicions about her health for years, the gravity of the situation hit hard. Tearful conversations with her family punctuated her drive home from the doctor's office, followed by weeks of shock and introspection. Seeking solace in literature and the familiar comfort of M&Ms, she navigated those early days of uncertainty. "I read about a book a day, and ate a pack of M&Ms a day, too. It was pure survival and escapism for those first few weeks," she said.

Physically, ALS has significantly impacted Brooke's life. In less than a year from her diagnosis, she went from having no mobility aids to relying on a wheelchair full-time, with a progression from a cane to a walker in between.

While ALS brought profound physical changes to Brooke's life, it's her unwavering spirit that truly shines. ALS has given her a purpose, compelling her to dedicate her days to amplifying awareness of the disease through social media and advocacy.

Brooke decided to share her ALS journey publicly after witnessing actress Selma Blair's impact in raising awareness for multiple sclerosis. She realized the need for a relatable "face" for ALS and began creating humorous videos on TikTok to gauge interest. The response was overwhelming, inspiring her to build a community where people feel comfortable asking questions and discussing terminal diagnoses openly.

Participating in two support groups, including one for young women diagnosed with ALS, has provided Brooke with invaluable connections, advice, and friendship. These groups have become lifelines during her journey.

Scientific research on NM and EDX diseases, including ALS, is crucial to find treatments and, ultimately, a cure. Brooke often states, "ALS is not incurable, it's underfunded," and the only hope lies in advancing research. Brooke emphasizes that the difference between finding a cure in the near future and waiting for decades lies in funding. Increased financial support will accelerate progress and bring hope to countless individuals living with these diseases.

In her relentless pursuit to raise awareness, Brooke urges readers to donate to the American Neuromuscular Foundation. She compares her situation to being in a car driving toward a cliff, with research being the only way to slow down or stop the inevitable outcome. Supporting research not only benefits ALS but also other related diseases, such as multiple sclerosis and Parkinson's.

"I'm so grateful to receive the award. I consider any work in the fight against ALS to be award- worthy, so thank you for honoring my efforts this year. I hope to make a difference for the future of those fighting for ALS." She is grateful to her friends, boyfriend, and family for their unwavering support and the laughter they bring into her life.

Brooke invites everyone to join her on her journey by following her story on social media (@limpbroozkit), where she says, "we'll talk about ALS, but I promise that we'll laugh along the way." Through laughter and open conversations, she believes we can drive awareness, funding, and hope for a brighter future for those affected by ALS and related diseases.