Training Program Partnership
Give your residents and fellows access to hundreds of NM and EDX-related training resources, deep annual meeting discounts, and more through AANEM's Training Program Partnership (TPP). TPP is available to international programs, as well as those within the United States.

All residents and fellows within a department participating in TPP receive:
Free AANEM membership

For each trainee in the department

Access to extensive library of exclusive educational materials

Case reports
Practice questions
Podcasts
Monographs
And more

Deep discounts on the AANEM Annual Meeting

$265 off in-person AANEM Annual Meetings for each trainee in the department
$455 off in-person AANEM Annual Meetings for one program director
Access to all the services of AANEM
For a flat fee of $253 per year, participating programs can register an unlimited number of trainees. The program is an incredible value and helpful resource for any neurology, physiatry, or related subspecialty training program. Multiple departments can join by paying an additional $253 per department.

I think the TPP should be a no-brainer for all PM&R and neurology training programs. Programs receive wide-ranging educational content and benefits at a great value. These resources are very helpful for trainees.

Dale Colorado, DO, PhD
TPP programs can also purchase a subscription to the EMG Interactive Training Tool Bundle for $39 per learner. This low subscription price is only available through TPP. These interactive programs, nicely complement each other and allow the user to train themselves on the accurate recognition and interpretation of EMG waveforms, as well as master the skills of MUP recruitment assessment.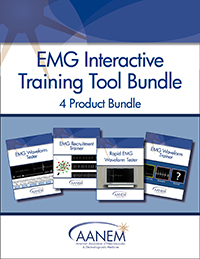 This add-on subscription provides your resident/fellows 365 days of access to the following interactive products:
EMG Recruitment Trainer
EMG Waveform Trainer
EMG Waveform Tester
EMG Rapid Waveform Tester

TPP Questions?
Please contact us
membership@aanem.org
, call 507.288.0100, or check out the latest TPP flyer.